Can you do Tofino in a weekend? From Vancouver, getting to the coastal city requires a ride, a ferry, and another (longer) ride. Earlier this fall, my partner and I set out to see if it was possible to cram 48 hours into as much Tofino time as possible — and it is. All you need is a flexible schedule, a good attitude, and plenty of food-focused pit stops (and, if your partner is an amateur photographer like me, seven cameras total—not including the ones on our phones). That's how we did it.
Saturday
4:00 am:
No regret
Tossing packed bags and camera gear into our tailgate at 4am feels less like embarking on a romantic getaway and more like committing a crime in the dark of night. But my partner Chris and I are determined to make the most of our precious weekend. The goal is storm watching — a popular Tofino attraction November through February — but it's the first week of October, so fingers crossed for miserable weather.
8:45 am Cathedral Grove
Chris wants to stop an hour west of Nanaimo MacMillan Provincial Park Photographing trees (he brought a DSLR camera, a GoPro, a 360 camera, a drone and two film cameras on this trip – there is no lack of enthusiasm here). We pass Domhain, home to giant Douglas firs that are several centuries old. Chris is dying to catch the biggest one, so we head down the route creatively named Big Tree Trail and meet the monster (nine meters in circumference) almost immediately. It's about the lowest commitment, highest reward pit stop I've ever done.
9:15 am: Wildflower Bakeshop
To further disrupt the ride (and to reduce our chances of killing each other in a hangry rage), we stop Wildflower Bakeshop and Cafe. Port Alberni Bakery opened in 2020 and serves pastries and coffee along with beer, wine and cocktails. Their weekend brunch doesn't start until 10am — a cold, hard truth that almost brings me to tears — and the only non-sweet baked goods on offer are pizza (yes, we're kinda early for brunch, but pizza's on time) and something called "Breakfast Buns". We get the latter, which turns out to be incredible. A warm, soft pastry with cheese, bacon, an insanely good tomato jam and a sun-yellow egg is the perfect refreshment.
11:30 am:

shopping in town

We're finally realizing the benefits of our extremely early departure—we've arrived in Tofino and it's not even noon yet. Time to make a responsible contribution to the local economy (read: shopping without consequences because we are on vacation and money is not real). We start in Roy Henry Vickers Gallerya stunning longhouse displaying the indigenous artist's original work.
I'm amazed at the selection Bookstore "Mermaid Tales".– despite the popular name, the small room is stocked with new releases by local authors. merge's clothing and homewares are the stuff Pinterest dreams are made of (think handmade checkered pottery, vintage glassware, and funky jewelry).
We grab a burger and spicy mango margarita barrack– I have to keep this party going.
4:00 p.m.:
Wickaninnish Inn
It is check-in time on Wickaninnish Inn, our chalet-style digs for the weekend. Sitting right on the point between Chesterman and Mackenzie Beaches, The Wick is seafront – there are plenty of views of evergreens, sandy beaches and crashing waves. It's hard to compete with this kind of beauty, but the hotel's interior comes close: General Manager Charles McDiarmid takes us on a tour and shows us the western red cedar beams, hand-carved by master carver Henry Nolla. He tells us that the late Nolla often enjoyed carving in the nude, nicknamed his work area "Henry's End" – because it was the end of the property and because passersby might be able to catch a glimpse of his "end". views, indeed.
6:15 p.m.:
Pointe restaurant
We dress up (or look as good as two people with three and a half hours of sleep can look) – and walk from our room to the Wick's Pointe restaurant. The circular dining area sits right on the edge of the headland, and during storm season the swell sometimes reaches all the way under the restaurant. At least, that's what we're told – it was an annoyingly beautiful day. We order the Natural Pastures buffalo mozzarella (which I affectionately call "bread salad" because of the toasted focaccia pieces), confit halibut (light and tasty, a great accompaniment to bread salad), and strawberry-pistachio cheesecake (made with goat's cheese, crazy decadent). We watch the sunset and swear to slow down a little. Tomorrow we relax.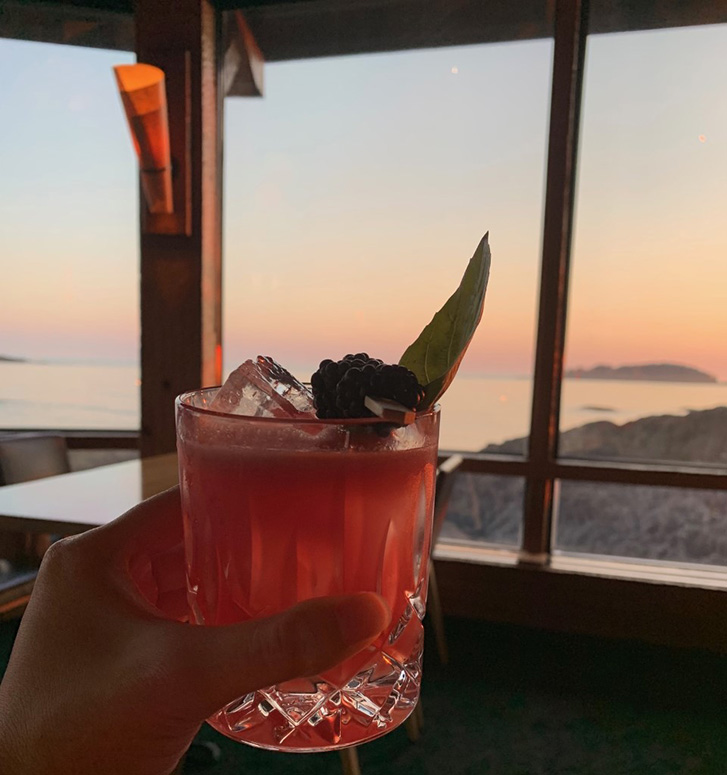 Sunday
9:00 am:
Roar at Hotel Zed
Okay, don't sleep in all the way – but I'm learning Roar The restaurant is within walking distance and every millennial in Tofino will probably try to have Sunday brunch there. I'm not wrong Roar opened in the new Tofino in 2021 Hotel Zed, and it has that cheesy-cool mid-century vibe that Zed hotels are known for (a sunken living room, rotary phones, vintage furniture, you know). Our breakfast—a benny with smoked salmon and a cast-iron skillet of sizzling eggs, sausage, baked beans, and grated potatoes—is cooked over the wood stove and it's delicious. Getting in early was worth it; When we leave, the restaurant in Patagonia Synchilla is packed with thirties.
11:00 o'clock:

Absolutely nothing

This would have been the perfect time to stare out our window at the Wick Inn at a symphony of rain, wind and waves. But we're cursed, which locals confirm is some of the best October weather ever. Instead, we watch families stroll the sand, surfers wipe out, and couples sunbathe. It's not a storm, but we're not complaining.
3:00 p.m.:
Tofino brows
After a very busy day of eating and lounging, it's time for a beer. Tofino brows is the obvious choice. We grab the Wonders of Nature kettle (unusually warm weather calls for a summer beer) and chill on the covered terrace. Beside us, a spotted dog asks for a snack from the Toki Doki food truck. He is unsuccessful and wanders off okonomiyaki-less.
19.00:

Jeju Korean Restaurant

We have reservations up jeju for dinner – the small eatery opened in late 2021 and is Tofino's only Korean spot. We take our waiter's advice and get the Korean Fried Chicken. It's perfectly crispy, topped with a killer gochujang sauce, and served with diced pickled radishes that add a lovely freshness to the plate. Another win for Alyssa and Chris.
9.00:

lunar observation

Okay, we didn't do a Stormwatch. But a nighttime stroll along the beach reveals a clear full moon, a few twinkling stars, and a gentle mist settling over the ocean. It's not quite the dramatic nature experience we wanted – but who needs more drama?
READ MORE: 5 more amazing places to visit in BC this winter