Devotion tells a harrowing true story with incredible aerial scenes and a solid cast.
Let me save some time: Director JD Dillard's new movie, Devotion, really is better than Top Gun: Maverick. It's really. Devotion is one of the best aviation movies ever made. It deserves a rightful place alongside such classics as the 1969 epic The Battle of Britain and 1954's Bridges at Toko Ri.
The true story behind "Devotion" combined with the deeply intertwined themes of racial conflict in America and combat in the Korean War give this film multiple layers and an intrinsic meaning that no Hollywood screenwriter could invent. Truth really is stranger, and in this case better than fiction.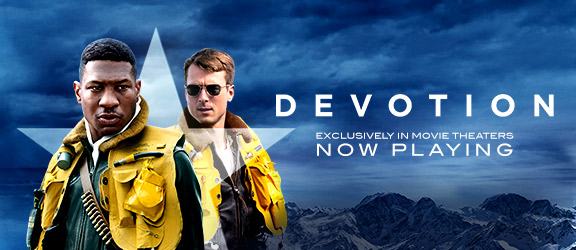 The big question for avid aviation enthusiasts will be will they enjoy a typically awesome and often whitewashed aerial film, now overlaid with a more realistic depiction of America's deep social inequalities? "Devotion" exposes an uncomfortable truth in the military and in Hollywood. To date, there are very few black fighter pilots.
Devotion (Sony Pictures in the US, STX International outside the US) is the film adaptation of author Adam Makos' 2015 book, "Devotion: An Epic Story of Heroism, Friendship, and Sacrifice(First Edition, Atlantic Books, 2015. Latest Edition, Ballantine Books, 2017). In fact, the compelling true story behind the creation of author Adam Makos' book Devotion deserves its own telling.

Makos has pulled off a solid literary trick by interviewing WWII and Korean War veterans and bringing their stories to life through extensive research and good storytelling. While Makos is no Michener or Hemingway, he is an energetic researcher, able writer, and gifted storyteller. His books have found an audience during a time when our "greatest generation" of WWII and Korean War veterans is dying at a rate of "234 a day," according to a January 2022 Forbes magazine article by Nicholas Reimann.
Makos has caused a stir with his excellent 2012 book: "A higher reputation' about the survival of a B-17 crew and their unlikely encounter with a German fighter pilot at the height of World War II in 1943. It followed with 2015's 'Devotion' and quickly caught the attention of mainstream Hollywood screenwriters Jake Crane and Jonathan AH Steward. The rest is, as the saying goes, well-adapted film history.
In the rush to post-pandemic film releases, the comparisons between aviation films Top Gun: Maverick and Devotion are inevitable. It's been a long time since major studios poured big bucks into military aviation films, a genre usually reserved for airplane geeks and history buffs. To have two major aviation film releases in one year for general cinema audiences is unprecedented in recent cinema history.
You already know that Devotion is the true story of US Navy Ensign Jesse Brown and Captain Thomas Hudner during the Korean War. Captain Hudner won the Medal of Honor for a heroic rescue attempt on December 4, 1950, when Ensign Brown's F4U-4 Corsair was shot down in the famous Battle of Chosin Reservoir.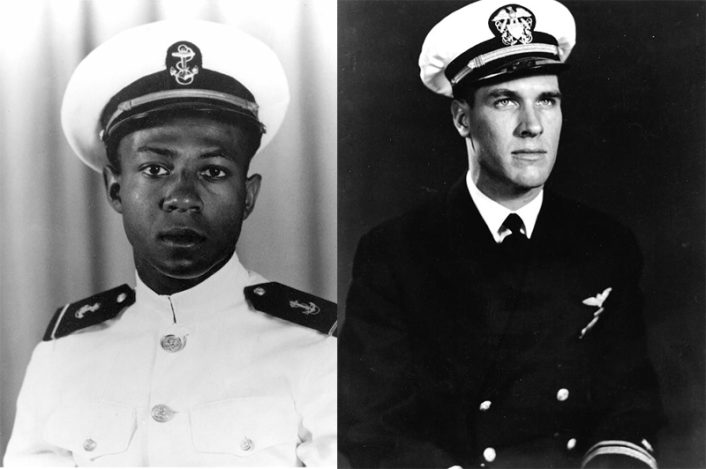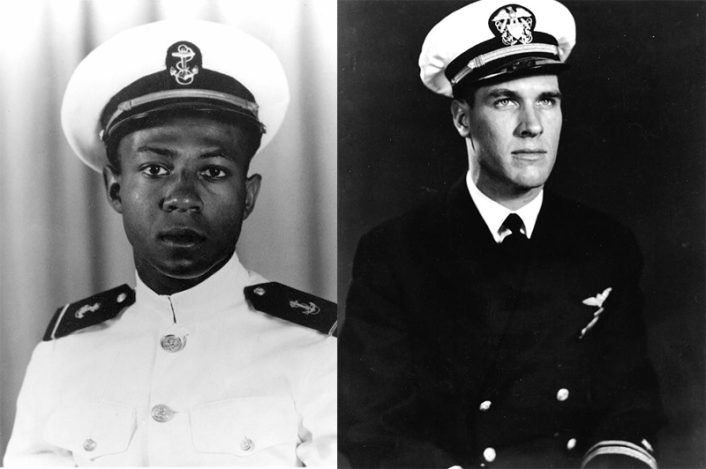 The cast of "Devotion" isn't good, it's incredible. There is a sleep performance by Thomas Sadoski as Dick Cevoli, VF-32's Executive Officer and Division Commander. At the climax of the film, he delivers an important inspirational speech. Actor Glen Powell, also known from "Top Gun: Maverick" as Lt. Jake "Hangman" Seresin matches and complements Jonathan Majors' performance as Ensign Jesse Brown. There isn't a weak performance across the entire cast.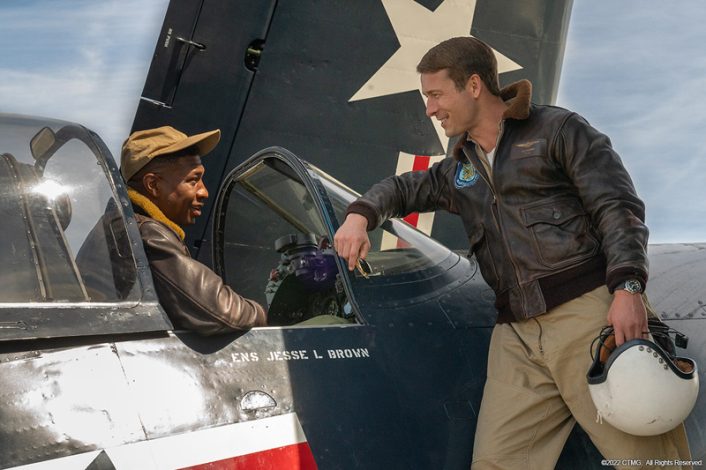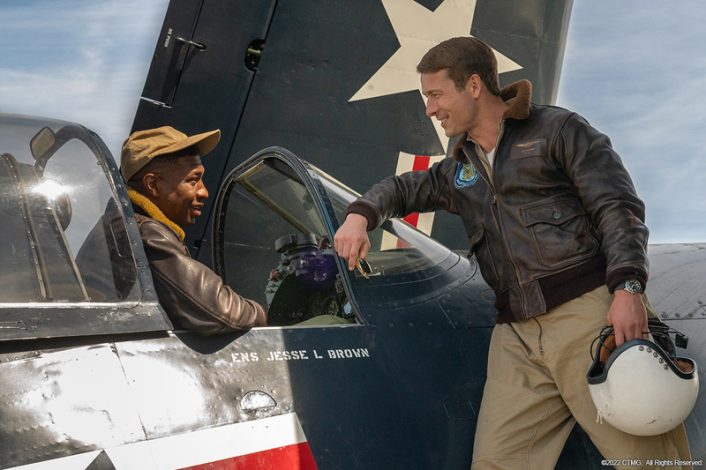 Visually, "Devotion" can more than compete with "Maverick". Top Gun: Maverick producer Jerry Bruckheimer said his film was "a love letter to aviation." But "Devotion" eclipses "Maverick" visually and in its awe of flight. Real vintage WW2/Korean War aircraft were filmed in stunning flight sequences by the famous Aero L-39 CineJet used by Helinet. The jet camera plane carried the specially designed SHOTOVER F1 RUSH camera and gimbal also used in Maverick. But the visual results in Devotion are better.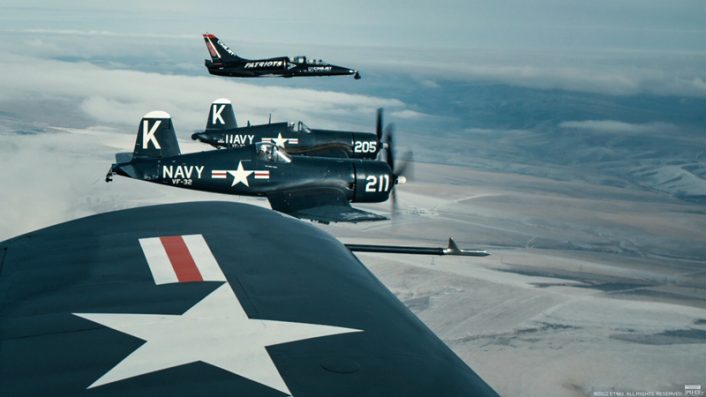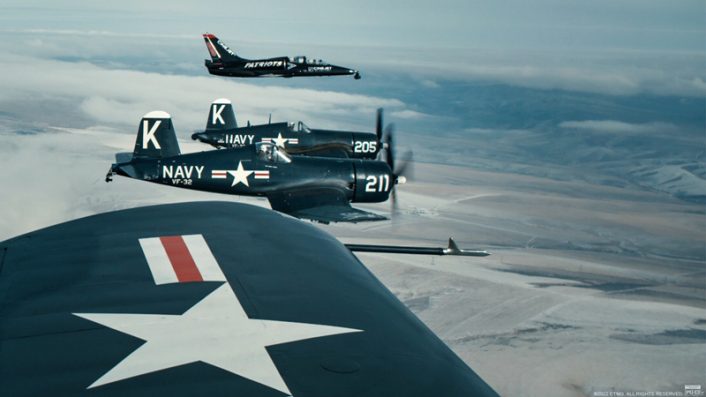 The visual differences between flight sequences in Devotion and Maverick are the difference between a computer game and an epic film. Maverick has a flight simulator, gameplay-like visual texture. There are hectic cuts and flashing transitions. The flight sequences in "Maverick" are almost spasmodic in an attempt to recreate the dizziness and disorientation of high-speed jet flight in F/A-18 Super Hornets. It works for Maverick, a wild, implausible superhero feature film.
But "Devotion" is a true story. It features almost exclusively piston engine aircraft from the late 1940s and 1950s. The result is a different pace and look in each flight scene than Maverick. With "Devotion" you just have more time to enjoy the flight sequences. They are more reverent and lyrical. And the sounds of those radial engines…
At least five flying Vought/Goodyear Corsairs were used in the aerial sequences of Devotion. Several of the privately owned vintage warbirds have been repainted aboard the aircraft carrier USS Leyte (CV-32) with authentic VF-32 fighter squadron markings from the 1950s, the "Fighting Swordsmen". Other aircraft featured in the film are a Douglas AD-4W Skyraider from the Erickson Aircraft Collection in Madras, Oregon, and an actual Russian-built MiG-15 with civil registration N87CN from the Planes of Fame Museum in Chino, California. But while this film will be a feast for lovers of the famous swept-wing Corsair, it's the underrated Grumman F8F Bearcat that steals the show in Devotion during the opening flight sequence.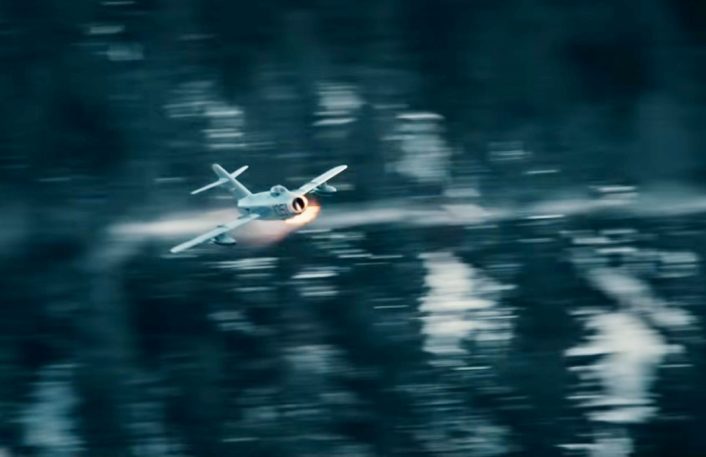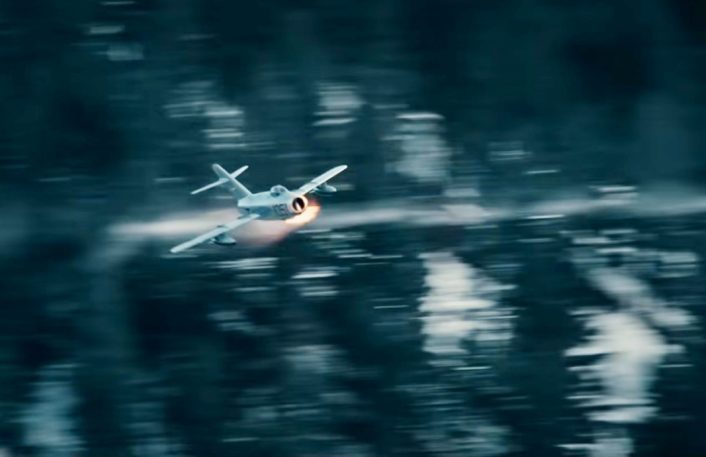 If you're on this site, you're probably already interested in seeing Devotion. As you enter the theater, brace yourself for an exceptionally potent combination of technical filmmaking, outstanding acting from the entire cast and simply stunning aerial photography. And don't be surprised if you're even more inspired by the true story of Devotion than the elaborate fictional hypersonic test flight and unassuming villains that hold Top Gun: Maverick a close second for best aviation film in decades.