LITITZ, Pa. – Elva Hurst of Lititz, Lancaster County, is a farm girl at heart with a wealth of experience growing up as one of eight children on an Old Order Mennonite dairy farm. She has explored this background artistically for over 30 years, evolving from simple childhood sketches and paintings to her popular 'chalk lectures'. The talks illustrate scenes from her beloved Lancaster County countryside, which includes the Hursts' 100-acre preserved farm where she and her husband Ray have lived since 1995.
Hurst has also authored and illustrated more than 14 books over three decades. These include two series of children's books and her autobiography, most of which she has voiced in audio books. The recorded audio books have resulted in DVDs based on her children's books. And this year she shot her first film, and more films are possible in the future.
As she looks back on her life, Hurst sees the many crossroads in her path where she believes God has set up signposts for the use of her various gifts. At the age of 5, Hurst was already drawing on the ruled sheets of her mother's tablet. Her artistic endeavors were not appreciated in a hard-working farming family where there was always a lot to do. Her father said of her drawings, "Sell es unneedich," which translates from Pennsylvania German as "That's unnecessary." Ironically, after his death, Hurst found pencil drawings hidden among copies of old Lancaster Farming newspapers.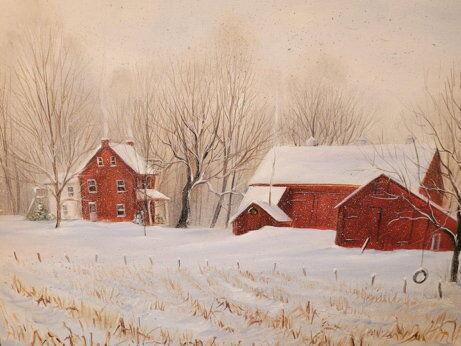 After Elva Hurst's eighth grade teacher recognized and nurtured her artistic talent, teenager Hurst made money painting objects such as bowls and butter churns to sell to tourists.
chalk talks
Elva and Ray married in 1988 and they began attending Rhema Bible Training College in Oklahoma. While studying children's ministry, she discovered the ancient performance art called "chalk talks" – telling stories while using colored chalk to draw a picture that illustrates the story's message.
Hurst brought up the chalk talk idea when she and Ray, a corporate pilot, returned to Lancaster County in 1991. There they eventually bought a dairy farm and raised their four children. Since then she has performed her chalk art to audiences ranging from school children and church groups to local service clubs and tourists. Hurst currently averages about 300 chalk calls a year.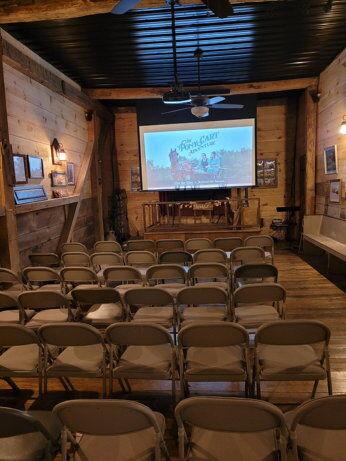 "I enjoy it and it brings joy to others," she said. "I never tire of turning around (from my easel) and seeing smiling faces – it revitalizes their souls. I see it as a combination of business and ministry—just another way to spread the gospel."
In 2013, a chalk-talk engagement with the Officers' Wives Club in Fort Mead, Maryland opened new doors for Hurst. The group loved their story about farm life in Lancaster County. She told them about Lititz, Pennsylvania, which was named one of "America's Coolest Cities" and invited them to visit her nearby farm if either of them ever came to Lititz. They accepted her invitation and brought their spouses, 55 of whom arrived by bus at their farm a few months later to see a chalk lecture.
Hurst crowded borrowed folding chairs into their barn's art gallery for their chalk talk. Visitors loved the Hursts' barn and farm animals. Her answer gave birth to an idea. The Hursts had recently dispersed their dairy herd, so why not set up a theater in the old hay mower next to their studio and invite groups over to see their chalk recitals? Looking back, Hurst recognizes that adding the theater "literally saved the farm." Today, Hurst said it attracts tour bus groups from the United States and Canada, as well as other international visitors.
From page to screen
Hurst has created other artworks over the years, using mediums such as oils, acrylics, watercolors, pastels, crayons, and pencils. She loves realistic drawing. Her favorite motifs are still peasant scenes, which she often painted outdoors while contemplating the landscape in front of her.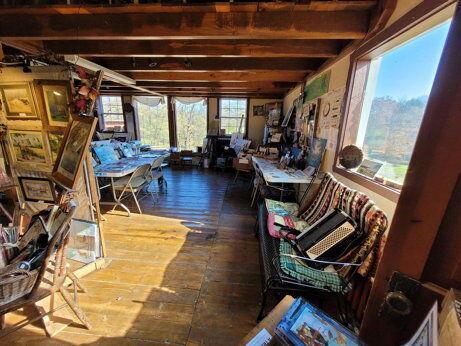 After her children were older, Hurst explored new ways to use her talents. In 2008, a wing of the family's 1859 barn was converted into her Barnyard Art Studio & Gallery, where she also offered art classes and opened a gift shop. Also in 2008, she wrote and illustrated one of her first children's books, The Pony Cart Adventure, based on her own experiences. It became the beginning of a four-season book series about life on the farm, which she completed in 2015.
In 2018, at a concert at the Sandy Cove Bible Conference, Hurst met Steve and Annie Chapman, Christian musicians, writers, and motivational speakers. In recognition of their work, she gave them copies of her children's books. The Chapmans eventually asked to show their books to Harvest House Publishers. Harvest House asked her to write more children's books, which she did. Your Farm Life Series No. 2 included four more books. Now Hurst's books are sold across the country and on Amazon. Also in 2018, Hurst wrote her first adult book, an autobiography entitled My Story.
When the audio book versions of her children's books were recorded, she voiced them herself. She said parents tell her they use them as bedtime stories to lull their kids to sleep and to entertain teens on long car rides.
That year, Hurst delved into the cinematic arts by turning her book, The Pony Cart Adventure, into a film. It began with Lancaster County native Ivan Karpitskiy, a film student at Bob Jones University who is friends with the Hursts' youngest son. The two had fun shooting short videos all about the Hurst farm over one summer. Ivan had co-founded Recognize Productions with his brother Timothy with the aim of "building the next generation of filmmakers" and believed that film had "the unique power of uniting people from all walks of life".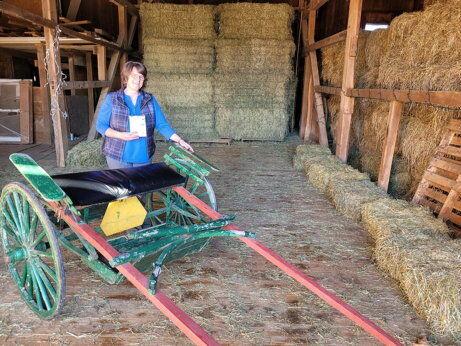 Finally, the idea of ​​bringing one of Elva Hurst's stories to life in the film came up.
"I wanted to try it — and they totally took me by surprise," Hurst said.
She sees them as a new generation of faith-based filmmakers, like the Kendrick Brothers, who focus on healthy film content.
With a team of other young filmmakers, the film was shot on location in Lancaster County earlier this year. Many scenes take place on the farm where Hurst's teenage pony cart adventure took place. Many of the actors and actresses cast in the production were recruited from Lancaster's local Sight & Sound Theatres. In addition to being one of the film's executive producers, Elva Hurst also tried her hand at acting, playing the role of a shopkeeper in the film.
The 35-minute film premiered on October 1st at The Junction Center near Manheim. During the event, Hurst also debuted her first songwriting project, Fields of Home, and sang it with her daughter.
The Pony Cart Adventure is available as a family-friendly DVD. You can find a trailer for the film at www.elvaschalkart.com. It was well received so more of Hurst's books could be made into films in the future. A film adaptation of her autobiography for 2024 is already being planned.
Elva Hurst's 15th Annual Old-Fashioned Holiday Arts and Crafts Exhibition will be held November 17-19 from 10am-5pm at the Barnyard Art Studio and Gallery, 1519 Brunnerville Road, Lititz. For more information, call 717-626-6582.