Jake Paul and Tommy Fury clashed again at a boxing event, but the pair still show no signs of stepping into the ring together.
Social media personality Jake Paul, 25, managed to slam 23-year-old former Love Island UK star Tommy Fury so badly that he fumed at him before provoking the same reaction from his father John.
Tommy Fury fought Rolly Lambert in an exhibition bout on the undercard of Floyd Mayweather's match-up with YouTuber Deji in Dubai.
After Fury's lackluster performance was booed by some members of the crowd, Paul decided he would troll him from the front seats by shouting a series of profanities and insults at the reality star, who is unbeaten in professional fights.
Paul and Fury were set to fight on a number of occasions but circumstances have seen them canceled each time, causing their feud to escalate as they exchanged insults on social media.
It started at the Coca-Cola Arena after Paul yelled "You're f****** s***" and "You've got no d***" at Fury during his commentary.
As Fury boxed, he also took the time to call back that Paul was a "b****" in the third round of the six-round bout.
After the fight, action flared outside the ring as Fury's father John decided he was going to fight with Paul, climbing into the ring and ripping his shirt off before embarking on a challenge.
He yelled at Paul, "Forget my son, I'm the king of bare-knuckle mans."
Paul replied, "You are a miserable old man.
Tommy was then ready to step in, stating, "There's a certain b***h from the ring side that I want in the ring right now.
"Tell him to come in here because he would never have the courage to come in here and fight a man of his caliber within hours."
Tommy Fury then defended his performance against Lambert, saying: "I had to come in and fight that man. 15-1, he's got WBC and WBA titles, he's knocked out 12. Get in that ring and fight him a few hours in advance."
With temper flaring up, Tommy then attempted to climb through the ropes to confront Paul in the crowd before security stepped in to prevent him from going any further than the ring.
Why do Jake Paul and Tommy Fury hate each other?
It appears their feud began after Jake disputed the viewership figures released by world champion Tyson Fury last year over Tommy's win over Scott Williams.
Tyson had posted a screenshot showing Tommy's "viewer count" was 1.9 million people, while others on the same card barely had 100,000 viewers.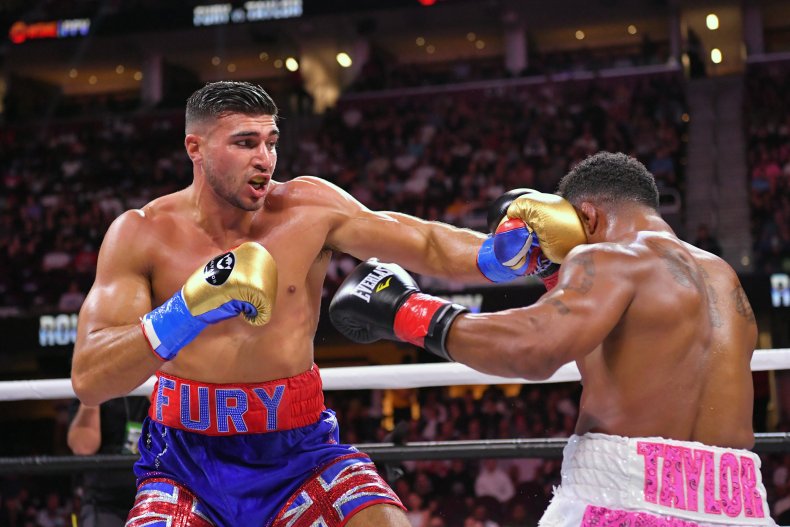 Paul quickly called out the numbers, proving it was fake, and he was challenged by Tyson to fight Tommy.
In May 2021, Paul then taunted Tommy by claiming his fellow Love Island UK fiancé Molly-Mae Hague had sent him a direct message on Instagram.
Paul said Hague sent a message: "Might be coming to America later this year and has always been a fan of your videos.
"Maybe you can show me around?!"
He added that there is a white heart emoji along with a face licking its lips.
Hague was quick to claim it was fake, writing on Twitter, "Times must be tough when you have to fake a DM… Photoshop is scary."
Paul and Tommy finally faced off backstage in the YouTube star's fight against Tyron Woodley. He won the fight while Tommy won his fight against Anthony Taylor on the same map before almost hitting outside the ring.
Tommy told talkSPORT Radio that he didn't think highly of Jake's ability in the ring.
He said: "They are not fighters. I mean, I didn't look back, but I was ready to throw hands there and then.
"This man is all in front of the cameras but he doesn't understand that me and my team are going to go – now.
"We don't care how many of you there are, we'll pitch in. So he can really count his blessings in the hallway.
"Forty of his security team called it off because the man can't fight, the man can't fight at all. Do you picture him in a street fight? Please, he wouldn't last three seconds.
"If he didn't have his security team with him, he wouldn't even have… he would have walked right past me.
"Jake Paul has nothing in him and I see that in this corridor right now.
"There was a moment in that corridor where it was all going on between his security, my team and his team and it was just me and him and I looked into his soul. And when the cameras aren't there, he doesn't want to know.
"Let's face it if he really wanted to fight me I would have been in that ring by the end of the fight, through the ropes, let's go. There is no turning back."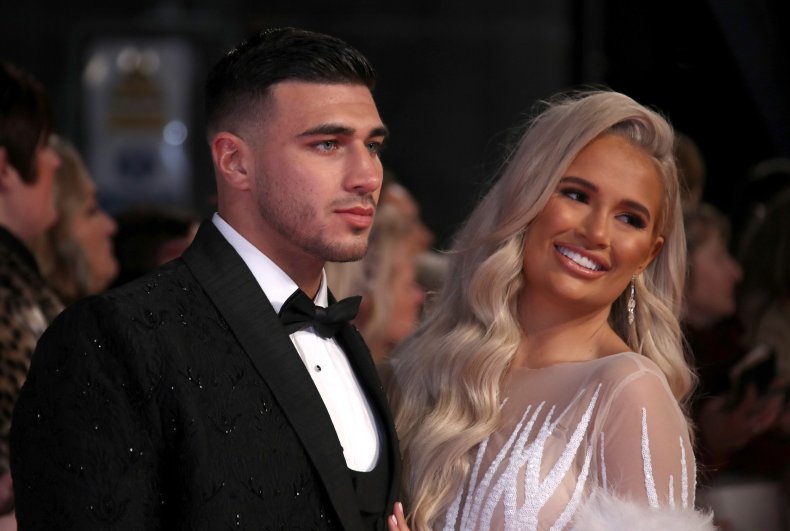 Tommy added: "But he didn't want that. And the reason he didn't want that is because he couldn't go back if I got in there. That's why I wasn't there to ring the bell tonight."
Paul, meanwhile, disagreed, telling the radio station: "I got in his face and let him talk.
"I have nothing to say to him. At the end of the day I hired him to be here and I don't really have bad blood. I just said, 'Yo, tell your girl to leave my DMs.'"
The pair were supposed to fight last December but Tommy pulled out, citing injury and illness as reasons for the pull-out.
They were then scheduled to fight in a rearranged fight over the summer, but this was canceled after Tommy was denied entry to the US due to visa issues.
It's believed the pair will now try to scrap it next year, but in the meantime, they'll be using their mouths rather than fists to do the talking.
Do you have a suggestion for a sports story for Newsweek to cover? Do you have a question about the World Cup? Let us know at entertainment@newsweek.com.