By Anne W Semmes
People with special passions and professions often travel far to pursue these passions. My wildlife photography daughter, Melissa Groo, travels from continent to continent in her work and is currently in Patagonia, Chile teaching others how to photograph wild cougars up close. But last week, courtesy of the Bruce Museum, I was transported into space by five astrophotographers in their webinar, The Art of Place in Space.
In order to capture their stunning images with their camera, these astrophotographers must seek out dark nights that can take them from continent to continent. How the five panelists from their "very different backgrounds" felt drawn to astrophotography was supported by Bruce Presents co-producer Leonard Jacobs.
"I'm Wally Krause and I live in Chicago," the first panelist began, "so tonight we're going to talk about looking at the great wonders of the deep skies, which we don't have in Chicago. So you're lucky if you see the moon and maybe Jupiter or Saturn – everything's obliterated here." To find darker skies, Krause, who calls himself a "backyard astronomer," and his fellow enthusiasts have to look "many miles away and in drive halfway across the United States in some cases. But Krause got lucky with his first astrophotography experience. "I was camping in Wisconsin under darker skies," he said, "and I took my camera and put it on the back of a camp chair… and pointed the lens straight up. And I'll set the timer for 30 seconds and I'll see what happens." And there he shares his photo of "the Milky Way straight out of Wisconsin."
Krause has now spent half a century learning how to use cameras and building his own telescopes, and is adept at teaching others. Another picture he snapped of daughter Laura at Pinnacles Park, California, shows how she had "stitched" her photos of the Milly Way together in a beautiful rainbow image.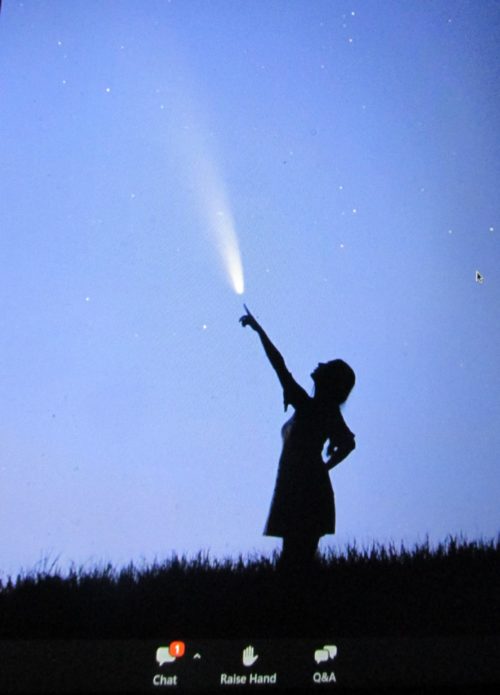 Next was the striking looking Monika Deviat from Alberta, Canada, who is an award-winning photographer of distinctive nightscapes. She's lucky enough to have "a lot of dark sky areas," but she goes the extra mile to "photograph the night sky from a peak." Therefore, her pictures are particularly striking. A "self-taught photographer" studying physics at university, she shared her enterprising story of how she found out about someone in her area who was taking pictures of the Milky Way, contacted him and off we went "down a logging road in the middle of nowhere, ", she tells with her debut there to photograph the Milky Way. Her video with music showcased her colorful and evocative nightscapes captured on her often solo adventures in the Canadian Rockies.
The extraordinary story of the Swiss-based, half-English, half-Lebanese Ben Barca began just four and a half years ago. "I had no experience with photography, nor with the night sky," he said. On "rather dark evenings," the two would step outside with his wife and start gazing at the stars. "We started noticing the meteor showers.
And I said to my wife that I would like to photograph the stars." Crazy idea, she thought. But his research brought the famed comet Neowise into focus just over two years ago. "I walked out four minutes and took a picture of my wife standing on a hilltop pointing at the comet." His career then began leading workshops and photo tours "throughout the Middle East" and winning various awards , including two consecutive years as Milky Way Photographer of the Year and being shortlisted for the Royal Observatory's Photographer of the Year. Greenwich in London. He has found his purpose in life. "I love nothing more than to go out and photograph the night sky."
Architect László Francsics is based not far from Switzerland, in Budapest, Hungary. "It's a very heavily polluted area," he said. "It's not good for us." But he is now an internationally recognized astrophotographer and chairman of the Hungarian Astrophotographers Association. He enjoys organizing photo exhibitions and selecting the best photos for them. He listed why astrophotography is "one of the best hobbies in the world. You can experience the spatial and temporal dimensions of the cosmos. The cosmos is vast and changing very slowly… We can experience these vast galactic scales through astrophotography. There are much larger telescopes out there and much sharper views, but with this little 8-inch camera – a Canon 350 – it can give you that beautiful view of the Andromeda galaxy. You can capture millions of stars in the Milky Way."
The last was Adam Block, who developed the public observing programs at Kitt Peak National Observatory and founded the Mount Lemmon SkyCenter at the University of Arizona.
He has discovered asteroids, a supernova and a galactic star stream. He wanted to show what he called "one of the rarest images of an aurora that can be seen," taken in Arizona in 2001.
"The Sun was just so active that you had this tremendous aurora, and I don't think it's ever happened since." There was a 20 minute mark and I didn't have digital cameras at the time so I had my film camera and a tripod. I was able to capture an aurora at Kitt Peak National Observatory." What's at the heart of astrophotography, he shared, "is in the sense that sometimes coincidence and ultimately the desire to just look at the sky can be rewarding. That's part of it for me."
Finally, the cameras must be refocused on the talented staff at the Bruce Museum, who are making headlines with discoveries that did not require long journeys and dark skies, just great skill in the science of paleontology. Curator for Science Dr. Daniel Ksepka and curator Kate Dzikiewicz have identified a new extinct bird species with its new name, Centuriavis lioae.
"It's one of the most beautiful fossils I've ever seen," said Ksepka. "So perfectly preserved. They often get crushed. But that's the entire front half of the bird, its wing bones, skull, vertebrae, shoulder bones. It lived in Nebraska 11 million years ago."
Ksepka and Dzikiewicz, who addressed this discovery a few weeks ago in another Bruce Museum webinar on paleontology, admitted to sitting with this bird fossil for years without realizing it was a relative of a turkey and a grouse. "The fossil was discovered in 1933," Ksepka says, "then sat in a museum collection for over half a century." He came across it at the American Museum of Natural History in 2009, took it on loan for 10 years, and then lent it to his colleague Kate, who studied it for a few years before recovering it. "It took a really long time to figure out the skeletal features," he said, adding, "It's a study that we're both very proud of."
Another Bruce Museum colleague, COO Suzanne Lio, is also particularly proud because the bird was named after her. "It's so nice," Ksepka said, "to be able to name a fossil after someone in recognition of what they've done for you, for the museum, and for science itself."