Local filmmaking legend Anne Wheeler's 1981 docu-drama A War Story opens the festival on Friday
Reviews and recommendations are unbiased and products are independently selected. Postmedia may earn an affiliate commission from purchases made through links on this site.
content of the article
A brand new film festival with a big name has popped up in town, celebrating female directors from here and around the world.
content of the article
The Broad View International Film Festival, the first of its kind here, takes place at the Metro Cinema on Fridays and Saturdays – and yes, 'broad' has multiple meanings, as its founder, president and curator, Geraldine Carr, is happy to explain.
content of the article
"I grew up in a generation where I heard men use that terminology in my life," Carr says, laughing. "It was like, 'Oh, look at that.' So it's kind of a reclamation and it's fun."
The "broad" also alludes to the wide reach of the festival.
International inspiration
Carr noticed a gap in our local programming and drew inspiration from her professional forays.
"As a filmmaker, I've traveled to other places, both near and far, with my films," she says. "When I was in Turkey at the Flying Broom International Women's Film Festival, I saw these amazing films made by women from all over the world – films made by women who came from countries around Turkey that don't support women at all, let alone financially supporting them to make films… I was just blown away."
content of the article
Carr met some of these filmmakers and was inspired to take their work home. Even before the pandemic, Carr had begun exploring the concept in a pre-series and co-curating films under the name Female Gaze at Metro Cinema around International Women's Day.
"I'm just motivated," she says. "For example, I want to share these films with the Edmonton audience. I want to share them with my friends. I want to share them with people I don't know."
Edmonton is a busy backyard of curated film festivals of all stripes, the most recent being NorthwestFest's horror-themed NWFEARfest, which debuted only in October – so Broad View is a perfect match.
And his mission is simple, as Carr explains: "I wanted to create a platform for directors to share and show their work."
content of the article
Loaded Lineup
The lineup is truly amazing, by the way, including features, documentaries and animations – local and international, new and old.
One of the biggest scores is the graduation film Carmen, a Canadian-Malta co-production written and directed by Valeria Buhagiar – co-star of Bruce McDonald in the cult classics Roadkill and Highway 61.
Playing at 8pm on Saturday, it is also Malta's official submission to the 2023 Oscars.
"What I love about the story is that it's a coming-of-age movie for a 50-year-old woman," says Carr. "There was this tradition in Malta that when your son went to the seminary to become a priest and was given a parish, one of the daughters went and was by his side all her life as his maid."
content of the article
Inspired by the experiences of Buhagiar's aunt Rita, the film stars Natascha McElhone as a woman who has spent her life taking care of her brother and suddenly finds freedom.
"I was blown away when I first saw it because, to me," says Carr, "it's real cinema."
Another must-see brought by the festival organizer is the UK/Iran documentary A Moon for My Father, directed by Mania Akbari and Douglas White, which airs at 8:30pm on Friday.
The narrative focuses on Akbari's serious physical health issues that she is having to overcome, Carr explains, "as well as the war that is going on in her psyche because she was in Iran as a young girl during the war.
"And so she has this beautiful way of telling the story visually that's poetic and moving and close and right in front of you without ramming anything down your throat."
content of the article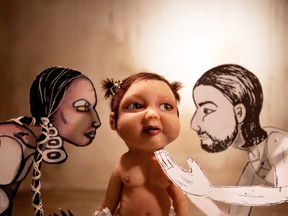 In addition to a block of 13 Austrian animated shorts running Saturday at 1:00 p.m., the festival has a program called Wahkohtowin: In Focus – Indigenous Female Directors Series running Saturday at 2:30 p.m.
Local Highlights
Carr highlights the stop-motion animated short Meneath: The Hidden Island of Ethics, directed by Terrill Calder, in the program.
"The main character is a baby with these amazing eyes trying to make sense of the world. On the one hand the priests of the boarding school talk about the seven deadly sins – these are lust, gluttony, greed, sloth, anger, pride and envy – and on the other hand her mother talks to her about the seven of the indigenous sacred teachings" meaning love , respect, wisdom, courage, truth, honesty and humility.
content of the article
"It's a beautiful film and I think it could open eyes and hearts to what it might have been like for an indigenous person in a boarding school."
Another notable film is the 1981 doc-drama A War Story, local filmmaking legend Anne Wheeler – based on her father Ben Wheeler's diaries from when he was interned in a Japanese POW camp during World War II. He opens the festival on Friday at 6:30 p.m.
Director, Star back in Edmonton for Bye Bye Blues anniversary

Director, Star back in Edmonton for Bye Bye Blues anniversary
"We're going to do Bye Bye Blues another time," says Carr of Wheeler's Genie Award-winning period drama. "But this was her first film and the story is so compelling."
Tickets for each film cost $15 and are available at metrocinema.org or at the box office.
content of the article
In addition to Carr, the board members are a number of local figures including Miranda Broumas, Hope Hatherly, Kathy Fisher, Conni Massing, June Meeboer, Beth Wishart MacKenzie and Nermeen Youssef.
Looking ahead, the simple plan for Broad View is to see what happens and come back next year.
"We don't want to try to make it too big too fast," says Carr. "I hope that we can continue to show films that don't necessarily have to be premieres. Because while there's a lot of content being created these days, in the past there was a lot of content made by women that still needs some airplay.
"And I know there's an audience for it."
fgriwkowsky@postmedia.com
@fisheyephoto
PREVIEW
International Film Festival Broad View
Where Metro Cinema, 8712 109 St.
When Friday and Saturday
tickets $15 each