Nikon has announced the super telephoto lens Nikkor Z 600mm f/4 TC VR S with built-in 1.4x teleconverter for its Z-mount mirrorless cameras. The company says it offers an unparalleled combination of versatility and powerful performance.
The new professional full-frame lens for the Nikon Z Mirrorless system weighs approximately 7.18 pounds (3,260 grams) and is approximately 17.3 inches long (437mm) and 6.5 inches wide (165mm). According to Nikon, it "incorporates the latest optical technology and anti-reflective coatings for the ultimate in image quality, plus the added benefit of an integrated 1.4x teleconverter for even more range." With the 1.4x teleconverter engaged, the 600mm 1 :4 lens has a focal length of 840mm with a maximum aperture of f/5.6.
Designed for action, wildlife and sports photography, the new lens allows photographers to create dramatic isolation with what the company calls beautiful background blur, with the further option of using the 1.4x teleconverter for extra reach quick and easy to activate or deactivate while maintaining superior optical performance throughout the frame.
Designed and tested for the most demanding professional imaging and video professionals, Nikon says the lens offers a surprisingly smaller size and weight than expected. The lens is a full 1.2 pounds lighter than the F-mount AF-S 600mm f/4E FL ED VR, which is said to give users longer shooting times with less fatigue. The smaller footprint of this lens also means it's optimized for carrying in carry-on luggage, giving users one less thing to worry about when travelling.
The 600mm f/4 TC VR S lens consists of 26 elements in 20 groups, including three extra-low dispersion (ED) glass elements, two fluorite elements, two short wavelength refractive (SR) elements, and one Super ED glass element. Nikon says the "innovative" optical formula effectively eliminates all aberrations to deliver incredibly sharp reproduction.
In addition, close-range performance has been improved (14.11-foot minimum focus distance, or about 4.3 meters) to minimize color gradients from infinity to close-up, and the lens has significantly reduced focus breathing with near-silent operation.
The new lens also uses Nikon's Amorphous Meso coating, which is said to offer the highest anti-reflective performance in Nikkkor lens history, and combined with the Nano Crystal coating, the 600mm f/4 lens can eliminate ghosts caused by accidents – and flare effects significantly reduce light, allowing for a much clearer image even in harsh conditions. The lens also has an aperture range of f/4 to f/45 at 600mm – or f/5.6 to f/45 at 840mm with TC enabled – via a nine-blade diaphragm.
Nikon says the center of gravity is shifted toward the photographer for easier and more comfortable balance when shooting and panning out of hand, with an ergonomic design that makes it easier to access controls (like the L-Fn keys, memory settings, and Fn rings) without looking. The lens also features a five-stop Vibration Reduction (VR) compensation effect (5.5 with Synchro VR on the Z9) and uses a "Silky Swift" VCM (SSVCM) autofocus actuator for faster, quieter, and more accurate autofocus , which the company says outperforms the previous propulsion system.
Below are some sample photos taken with the lens provided by Nikon:
The new Nikkor Z 600mm f/4 TC VR S lens is slated to be available in late November 2022 for $15,499.95.
A new remote control handle
Alongside the new lens, Nikon has also announced the release of the MC-N10 Remote Grip, a new accessory for videographers that allows remote control of Nikon Z mirrorless cameras via a wired connection.
The company says the new grip is ideal for productions where space is at a premium, giving operators the ability to adjust a variety of key camera settings without having to directly reach into or disturb the camera body.
The new AA battery-powered grip uses an ARRI-compatible rosette mount, allowing it to attach to a variety of accessories and systems including tripods, gimbals, cages and sliders. The grip gives users the ability to control and adjust autofocus, ISO, exposure control, AF speed, as well as access custom functions, start and stop recording, and access the entire camera menu system.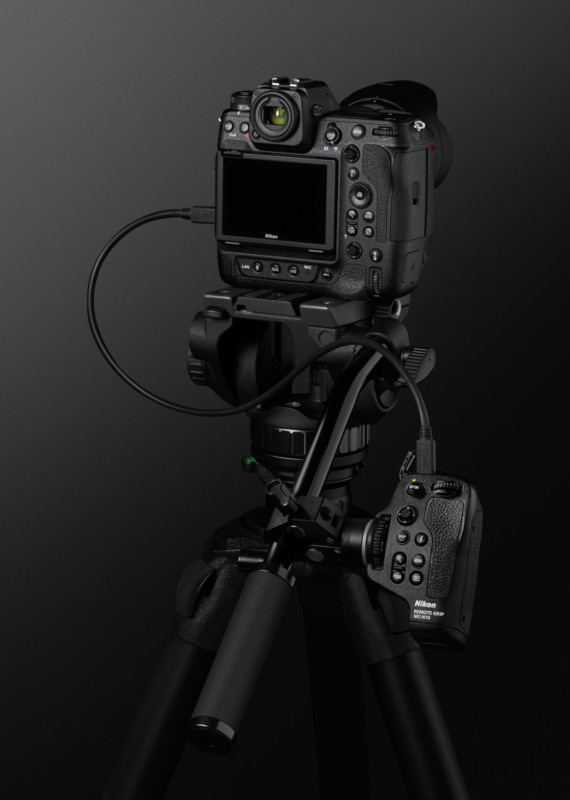 When the new MC-N10 grip is paired with the Nikon Z9 and the recently announced firmware 3.0, the Fn1/Fn2 buttons can be reassigned to use the new High-Res Zoom function for smooth zooming regardless of the lens used -Transition to achieve without loss of resolution.
The new Nikon MC-N10 Remote Grip will be available in late November for $429.95.